News
This incredible and inspiring documentary film is about the 1985 Jack Yates Lions season. This team was voted the team of the 1980s by the Houston Chronicle over both Odessa Permian and Dallas Carter. Yates was also the first historically black high school to win a football championship in the state's highest classification, and is considered by many to be one of the best high school football teams in our state's history. Johnny Bailey, TSHOF inductee, stood out when he led Yates High School to the 1985 5A State Championship title and is featured in this documentary.
You can watch the documentary here: https://www.thegreatyates.com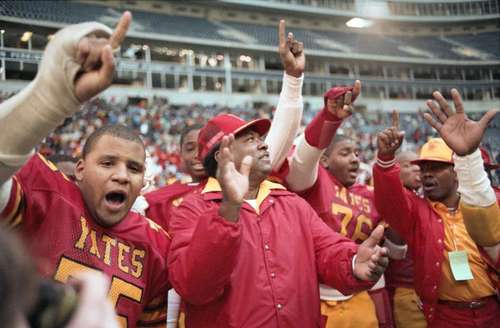 Film synopsis:
This film was made to tell the little known story of the greatest team in Texas High School history, the 1985 Jack Yates Lions.
Yates, a perennial Texas High School football power, and one of the few remaining historically black high schools in Texas had challenged for state championship honors for years but had failed to win it all.
In 1985, the team achieved its potential and steamrolled the state in legendary fashion. This historic season culminated for Yates in an epic showdown and victory over the reigning kings of Texas high school football, the Odessa Permian Panthers of "Friday Night Lights" fame.
The Jack Yates' 1985 season has been hailed as the greatest single season in the history of Texas high school football. The team was voted Texas High School Football "Team of the Decade for the 1980s" by the Houston Chronicle and Dave Campbell's Texas Football magazine (the bible of high school football in the state of Texas).
Back to index...