News
Joe Routt was raised in Chappell Hill, Texas and attended Brenham High School and later Texas A&M. His grandfather, Joseph E. Routt, was a member of the first graduating class that attended Texas A&M for four years, so Routt was destined to be an Aggie. In 1935, his freshman year at A&M, Joe was a boxer and would continue to box throughout his four years, never losing a single fight and earning the Southwest Conference heavyweight boxing championship. In 1936, he became a member of the Aggie football team starting on offense as right tackle, defense as left guard, and also returned punts. Routt played two seasons for Texas A&M and was the first Aggie to be named All-American and, then the first Aggie to be named All-American twice. He was then drafted number 16 overall by the Cleveland Rams of the National Football League, but choose to remain in Texas and never played a down for the Rams.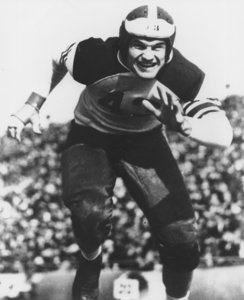 After graduating from Texas A&M and turning down the NFL, Routt remained in Texas farming, raising horses, and was a salesman for the Longhorn Portland Cemetery Company in San Antonio. In the early 1940's, Routt joined the United States Army and trained in Texas and Georgia before his unit was deployed to France. His unit was in constant contact with enemy forces starting November 28, 1944 and soon found themselves fighting in the Battle of the Bulge. In early December of 1944, when Routt's unit commander was killed, he took over the leadership role and awarded the Bronze Star and Purple Heart for his actions. Not soon after, Routt was killed in action by machine gun fire from an enemy tank during a counterattack he was leading.
Routt was laid to rest in Prairie Lea Cemetery in his home town of Brenham, Texas. He will always be remembered for his leadership, toughness, integrity, and courage. Routt was inducted into the Texas Sports Hall of Fame in 1952 and the College Football Hall of Fame in 1962.
Back to index...