News
By Jay Black, Vice President, Texas Sports Hall of Fame, 2003.

According to golf lore, after being congratulated on winning his second U.S. Open at Merion in 1950 Ben Hogan grumbled a one word reply - "Third."

Not many people remember the 1942 Hale America National Open Golf Tournament. Ben Hogan did. He remembered it because he won it and considered it his first U.S. Open title. The problem is that golf's governing body, the United States Golf Association (USGA), never did and still doesn't recognize the tournament as an official open.

When the United States entered World War II, the USGA decided to postpone the 1942 U.S. Open at Interlachen Country Club in Minnesota. In its place, a patriotic fundraising tournament, the Hale America National Open Golf Tournament, was held at the Ridgemoor Country Club in Chicago. All proceeds were donated to the USO and the Navy Relief Society. The USGA may not have wanted to seem unpatriotic by continuing its championships. It was also probably assumed that active golfers would be called to military duty and the USGA did not want to crown an U.S. Open champion from a watered down field.

The Hale Open was a huge success raising approximately $25,000 for the war effort including $1,650 contributed by the winner Ben Hogan, when the putter and golf ball he used were auctioned off.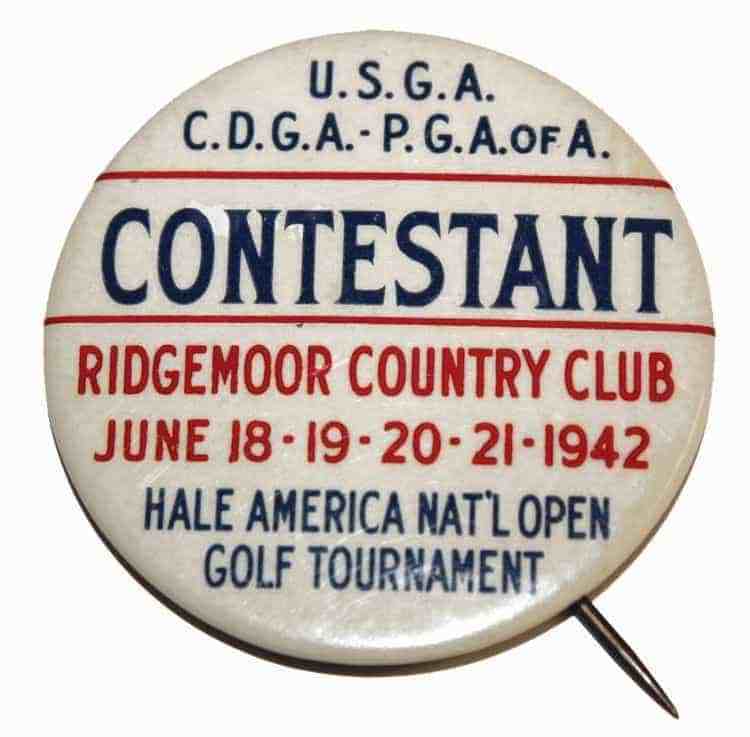 After starting slowly with a first round 72, Hogan put together a record round of 62 on day two. Hogan was paired with Bobby Jones for the final round and posted a score of 68 before a gallery of over 12,000 to win by three strokes over Mike Turnesa and Jimmy Demaret. Hogan finished the tournament at 17 under par which if it had been a U.S. Open would have lowered the record by 10 strokes.

Hogan's constituents, namely esteemed golf writer Dan Jenkins, have long argued that the 1942 Hale was in essence, if not in name, a U.S. Open.

The 107 player field resembled a typical U.S. Open. Reigning champion Craig Wood played as well as Byron Nelson, Gene Sarazan, Paul Runyan, Horton Smith, Lloyd Mangrum, Herman Barron. The great amateur champion Bobby Jones even came out of retirement to support the cause. John Strege noted in his fine book on golf during World War II, When War Played Through, "Other than Sam Snead, who had joined the Navy and was in training and unable to secure leave, every active player of note was entered."

Qualifying requirements for the Hale Open were suspiciously similar to that of a typical U.S. Open. A total of 69 local and 14 regional tournaments were held to thin the more than 1,500 entries.

Adding to the confusion was the fact that the Hale Open was hosted by the USGA, along with PGA of America and the Chicago District Golf Association. The USGA thought enough of the tournament to "protect it" from Sam Bryd's illegally grooved irons which were examined by tournament officials under a microscope then banned. This was an attention to detail that was usually reserved for U.S. Opens.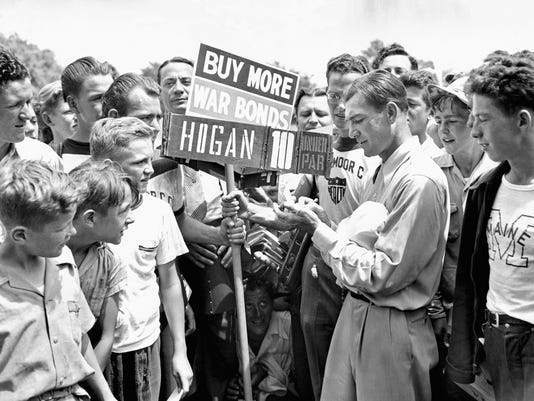 Image courtesy of the USGA

After winning the Hale Open, Hogan was given $1,000 in war bonds and two medals. One medal was from the Chicago District Golf Association and the other was from the USGA. The medal given by the USGA looked identical to the ones given at every U.S. Open except for a few minor differences. The front of the Hale medal did not have a blue background for the stars and contained the word tournament not championship engraved on the back.

Officially Ben Hogan's four U.S. Open titles (Riviera 1948, Merion 1950, Oakland Hills 1951 & Oakmont 1953) reside in the USGA's record book alongside Willie Anderson (1901, 1903, 1904 & 1905) Bobby Jones (1923, 1926, 1929 & 1930) and Jack Nicklaus (1962, 1967, 1972 & 1980).

In 1990 the USGA's Museum and Library organized a special exhibit on Ben Hogan's career titled "Golf: The Lifework of Ben Hogan" featuring over 175 objects from Hogan's personal collection and the Colonial Country Club in Fort Worth, Texas. The exhibit included a color catalog of the objects included. Near the front of the catalog there is a portrait of Hogan posing with a replica U.S. Open Trophy and five small U.S. Open medals.

No one, it seems, had the nerve to ask him to remove the Hale Open medal.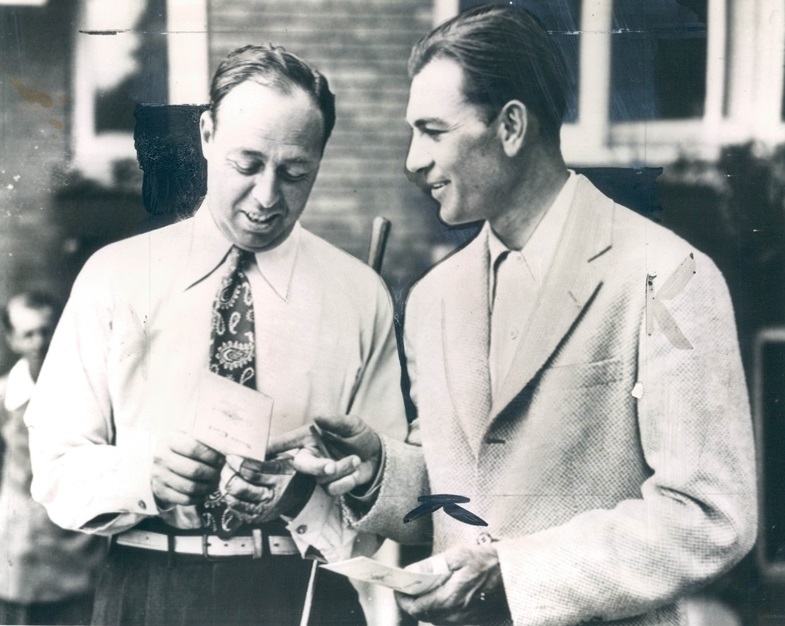 Ben Hogan (right) with 1942 Hale Open Runner Up Mike Tunesa.

Sources
Alvarez, Rob. "Museum Moment: The Hale America National Open Golf Tournament." [Online] Available http://www.usgamuseum.com/about_museum/news_events/news_article.aspx?newsid=216, June 23, 2011.

Davis, Martin. Ben Hogan, The Man Behind the Mystique. Greenwich, CT: The American Golfer, 2002.

Hanley, Reid. "Hale America: A U.S. Open?" Chicago Tribune. June 16, 1992.

Jenkins, Dan. "The Hogan I Knew." Golf Digest. October, 1997, pp. 129-132.

Strege, John. When War Played Through, Golf During World War II. New York: Gotham Books, 2006.



Back to index...