News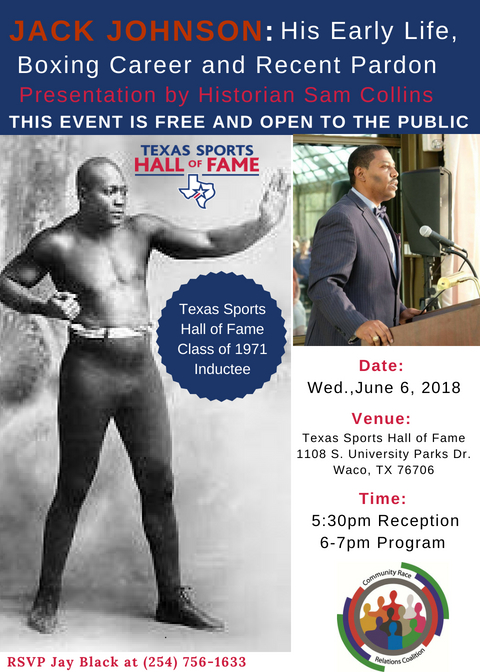 Let's Celebrate Jack Johnson's Pardon on Wednesday June 6th at the Texas Sports HOF
The Texas Sports Hall of Fame along with the Community Race Relations Coalition will host a special presentation at the museum on Wednesday June 6th at 5:30 pm. The guest speaker will be Sam Collins, a local historian from Galveston who has worked for years to help get Jack Johnson pardoned. Collins will speak about Johnson's early life in Galveston, his boxing career and the pardon issued by President Trump. This event is free and open to the public.
After a discussion with actor Sylvester Stallone, President Trump announced on April 21 via Twitter his decision to consider pardoning Jack Johnson, the famous boxer and Texas Sports Hall of Fame Class of 1971 inductee.
The Texas Sports Hall of Fame has written a letter of support to the White House standing behind Johnson, who was convicted of violating the Mann Act, a law designed to prevent trafficking and prostitution, but was used during the time to target African Americans. He was arrested for "traveling across state lines" with his white girlfriend.
Johnson, a Galveston native, was an extraordinary athlete whose boxing career led to 105 victories and only seven losses over more than two decades. Johnson began boxing in 1897 after arriving in Boston and meeting Joe Walcott. Johnson picked up a lot of boxing techniques while helping Walcott train.
In 1908, Johnson challenged heavyweight champion Tommy Burns and won the title with a 14th-round knock-out. On July 4, 1910, Johnson successfully defended his heavyweight championship by knocking out Jim Jeffries in the 15th round. This fight, which was held before 20,000 spectators at an open-air ring in Reno, Nev., was acclaimed as the "Fight of the Century". Johnson held the crown for nine years before losing a 26 round battle to Jess Willard at Havana, Cuba in 1915. The boxer died in 1946 in a tragic car wreck.
Back to index...