Bradshaw, Wesley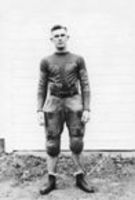 Born:
November 26, 1897 - April 11, 1960
Hometown:
Athens
Sport:
Football
Team:
Baylor, Rock Island Independents, Buffalo Rangers
Bio:
Wesley Bradshaw, a letterman in football, basketball, track, and baseball at Baylor University, was noted for his talent in football. He was the Southwest Conference's top quarterback in 1921 and 1922, during which time he led the Bears to a pair of 8-3 season records. In 1922, he kicked 11 field goals, a record that stood for 41 years. During the 1922 game against Arkansas, he scored 30 points (four touchdowns and six PATs). By the end of the 1922 season, Bradshaw had scored 119 points. He also held Baylor's all-time career-scoring record with 178 points. After graduating from Baylor, Bradshaw played professional football in the early days of the National Football League with the Rock Island Independents in 1924 and the Buffalo Rangers in 1926. He later coached football at Polytechnic High School in Fort Worth and Ouachita Baptist College in Arkadelphia, Arkansas. Bradshaw was inducted into the Texas Sports Hall of Fame in 1966.
Quote:
"On the football field,he was one of the hardest guys to get hold of I ever saw. He wasn't great as a fast runner, but he was very shifty and had a great change of pace. He was very hard to catch." SMU player James Stewart
Bibliography:
Freeman, Deene. That Good Old Baylor Line. Strode Publishing, 1975.