Layne, Bobby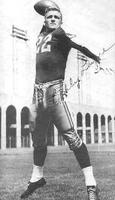 Born:
December 19, 1926 - December 1, 1986
Hometown:
Dallas
Sport:
Football
Team:
University of Texas, Detroit Lions, Pittsburgh Steelers
Bio:
Very little got in Bobby Layne's way when it came to winning. His success began at Highland Park High School in Dallas, where he quarterbacked the Scots to the state semifinals in his senior year. In 1944 as a freshman at the University of Texas, Layne began four years as quarterback and won 31 games. His passing records have been broken, but a record he holds on the Texas baseball squad has not been beaten. As a pitcher, Layne was undefeated against conference teams, winning 28 times. As a pro football player, Layne's records included 1,814 completions in 3,400 attempts and 196 touchdown passes. Quarterbacking Detroit in the 1950s, Layne led the Lions to NFL titles in 1952 and '53 and to the championship game again in 1954. He was inducted into the Texas Sports Hall of Fame in 1960.
Bibliography:
St. John, Bob. Heart of a Lion, The Wild and Woolly Life of Bobby Layne. Dallas, Texas: Taylor, 1991.