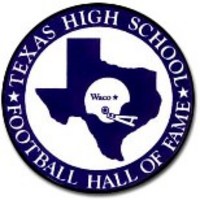 TEXAS HIGH SCHOOL FOOTBALL HALL OF FAME
ANNUAL INDUCTION BANQUET
CLASS OF 2015

Presented by


WACO - The Texas High School Football Hall of Fame has announced the banquet date for the class of 2015. The banquet which is presented by Texas Farm Bureau Insurance will be held on Saturday May 9, 2015 at 6:00 pm at Baylor University's Ferrell Center. A news conference will be held prior to the induction banquet at 3:00 pm at the Texas Sports Hall of Fame. Tickets to the banquet are $45 for adults and $15 for students. To order tickets contact Tiffany Wilkins tiffnjake@hotmail.com or 210-290-8570.

CLASS OF 2015



Bert Coan


Pasadena High School
1950s & before


Junior Coffey


Dimmitt High School

1960s


Mike Singletary


Houston Worthing High School
1970s


Jerry Ball


Beaumont West Brook High School
1980s


Derrick Johnson


Waco High School
1990s

Jordan Shipley


Burnet High School
2000s


Bob Wright


Dave Campbell Contributor to the Game

Sportswriter

Mexia



Jim Streety

San Antonio Madison & New Braunfels High Schools

Coach
The banquet will also include presentations to the 2014 state championship coaches
The 2015 Tom Landry Award will be presented to a high school coach selected by the Texas High School Coaches Association
The 2014 Gordon Wood Award will be presented to Holland & Mount Calm high schools
Members of the Texas High School Football are selected by a statewide committee made up of sportswriters, high school football coaches and members of the Texas High School Football Hall of Fame Board of Trustees.